By Mary Gauvreau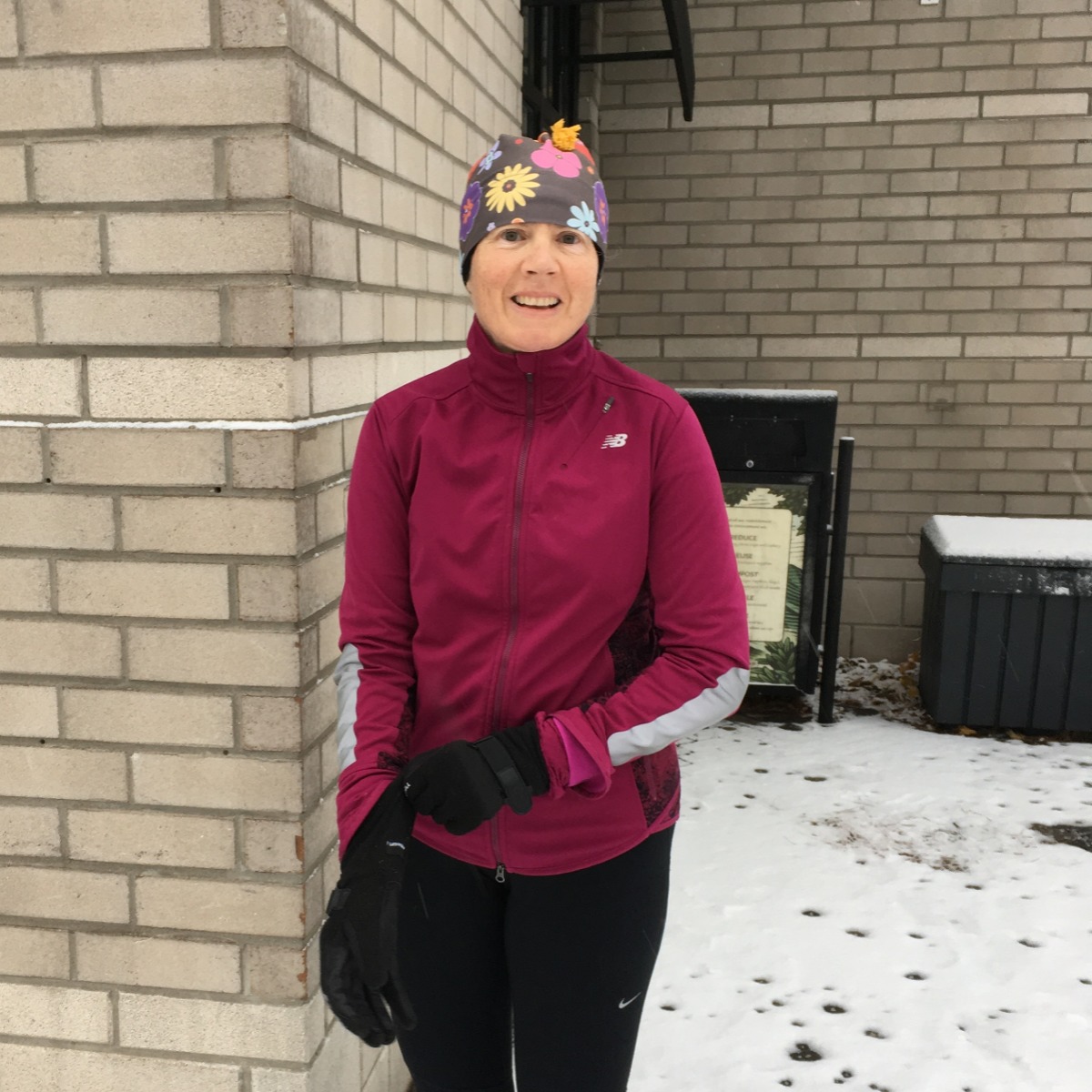 It's good to set challenging goals.
I ran my first marathon the year I turned 50, and completed another two years later. I loved establishing training goals that would force me to push myself physically, and feeling healthy and strong as the result of running regularly. In November 2015, I decided on a new goal: to run another marathon in the fall of 2016, and complete it with a time fast enough to qualify for the Boston Marathon.
November 2015 also meant a screening mammogram for me. Unlike previous years, the test was followed by a second mammogram and a breast biopsy. On Christmas Eve 2015, I received my diagnosis of breast cancer over the phone in a call from my nurse practitioner.
That Christmas was difficult for me. The diagnosis left me feeling sad and angry and afraid. Because of the holiday, I waited almost three weeks before meeting with my surgeon, not knowing how serious the cancer was, and what the treatment plan would be. I dealt with this period of uncertainty by focussing on being active outdoors with family, spending time with my husband and two young adult daughters cross-country skiing.
I felt reassured once I finally met with the surgeon. His explanations were clear, and he answered all of my questions. A lumpectomy and sentinel node dissection was scheduled for February, and would likely be followed by radiation. It appeared that things would get back to normal quickly.
That surgery found cancer in my lymph nodes, and the margins from the lumpectomy were not clear. My cancer was Stage II ductal and lobular carcinoma that was hormone receptor positive.
My treatment plan now changed. I would have eight rounds of chemotherapy once every two weeks from April to July 2016, followed by a mastectomy in August and radiation in October and November.
The new treatment plan was a big switch, and was going to affect my life more than I originally thought. My goal of running a fall marathon and qualifying for the Boston marathon was displaced, so I adopted a new goal: to get through treatment, regain strength and fitness, and then run another marathon.
The first hurdle to get through was the chemotherapy. I wanted to stay as active as I could during treatment, and I was convinced that spending time outdoors would be good for me mentally. I set the goal to get outside and walk every day. Many days I was able to run or swim, but even on bad days I got out for a short walk with a friend. I also found it helpful to focus on "the big picture", how chemotherapy treatment would lead to a big long-term payoff in terms of health. My mantra became "Get through this, and run another marathon."
Over the next few months, through chemotherapy and mastectomy surgery, I continued to exercise, but by the start of radiation in October 2016 the cumulative fatigue associated with cancer treatment was taking its toll. It was getting harder and harder to get myself out the door to stay active. I remained convinced of the benefits of exercise, but I found that I needed help to stay motivated. Unable to train with my regular running group, I joined Start Smart, a run/walk group for beginner runners through the Ottawa Running Club. That way, I had to get up in the morning, put on my running shoes, and meet the group, even if I wasn't feeling well. Having an outside motivator became very important for me at this point. No matter how bad things were, I knew that I needed to go outside and exercise if I was going to keep my energy up and stay positive.
The end of treatment was the most difficult stage in my cancer journey. I had hoped that when I completed my final radiation session in November 2016 that everything would quickly return to normal, but I was exhausted and experiencing cancer-related brain fog. After a few more months, not only was I fatigued, but my spirits were low. I felt frustrated, as I had not realised that I would have to fight so hard and long to get back to where I was before in terms of energy and cognitive level.
Once again, I turned to exercise to help combat the still present side effects of cancer treatment. My marathon goal seemed way out of reach, so I set smaller running goals, found new running partners, and registered for some shorter races to keep my motivation level high.
I credit exercise with helping to alleviate the fatigue, brain fog and depression that I experienced, but it was not the only factor. I also sought assistance from some local resources. An excellent source of support was the Cancer Coaching at the Maplesoft Centre. This free service turned out to be one of the best things that I did. My cancer coach helped me find the resources that I needed, troubleshoot problems, and make decisions. Group coaching sessions also helped deal with the end of treatment and my return to work. Another helpful resource was a six-week support group at the Ottawa Integrative Cancer Centre. I found it reassuring to hear from other women who shared my experiences with breast cancer.
Over time, I was able to run longer and longer distances. At the end of March 2017, I ran a 5 km race. In April, I tackled the 10 km distance. In May, I ran a half marathon, and in October 2017 I achieved my goal of completing another full marathon.
I continue to place exercise as a priority in my life. This fall I added two weekly strength and fitness classes through Breast Cancer Action to my routine of running and swimming, and I have already registered for two running races in 2018. I'm still not running as fast as I did before my breast cancer diagnosis, but that just means that I have something to work towards. Whether or not I eventually qualify for the Boston Marathon, being fit, healthy and strong will always be a goal for me.