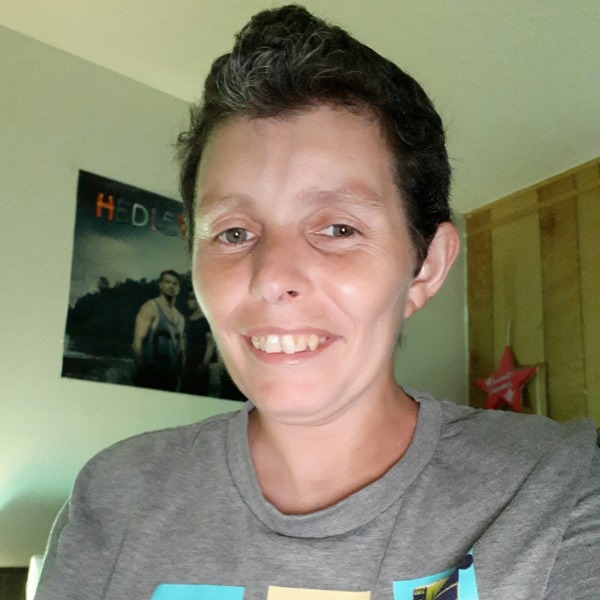 In August 2016, Erin Richard of Sydney, Nova Scotia was diagnosed with triple negative metastatic breast cancer. She was only 39 years old.
She was treated with mastectomy, radiation, and the chemotherapy drugs Adriamycin, Cytoxan, and Taxol. The treatments made the tumours in her lung and lymph nodes shrink. She is no longer receiving any kind of treatment as her condition is stable.
When Erin was diagnosed, she did not have a family doctor and had to go to the local walk-in clinic, which referred her to the Well Woman's Clinic. There she received a mammogram and an appointment with a surgeon. It was not until May 2017 that she finally found a family doctor who was new to her area. "He is there for me any time even if I just want to talk," she says.
The hardest part of her cancer diagnosis was telling her 17-year-old son.
The best part was finding an extremely supportive oncologist who was always available to talk and answer questions. The oncologist encouraged Erin to stay positive and keep active. The prognosis of two to five years is only an average, and perhaps Erin could beat the odds.
Erin reached out to others for support. She managed to meet another woman with a similar age and diagnosis. She also found two Facebook groups helpful: Canadians with Metastatic Breast Cancer and Triple Negative BC Stage 4.
Cancer has been hard on Erin's financial situation. She had to quit her job in fast food because it was too stressful. At first, she received Employment Insurance sickness benefits, but they only last for 15 weeks. When cleared to ease back into working, Erin was denied regular EI benefits. When her husband was laid off in December, they had to rely on credit cards and money they had been saving to buy a home. Fortunately, her husband is back to work now, and they can pay their debts.
In response to these difficulties, Erin started a petition to extend EI sickness benefits to 52 weeks. She collected 1167 signatures and delivered the petition to her Member of Parliament in September.
Erin feels self-conscious about the changes in her body after a mastectomy. She hasn't had breast reconstruction, and she doesn't want to wear a prosthesis. When she buys sweaters, she makes sure they're loose-fitting.
She wishes that the public had greater awareness of metastatic breast cancer. She wants people to know that she can live well with this illness for several years.
Her greatest wish is to share in her son's achievements. "I got to make it to his high school graduation," says the proud mother. She looks forward to his accomplishments in the years to come.
Erin sees her breast cancer as giving her a vocation to help others like her. "Everything is going to be positive if I keep my faith and don't worry about tomorrow," she says.