By Trisha Mourot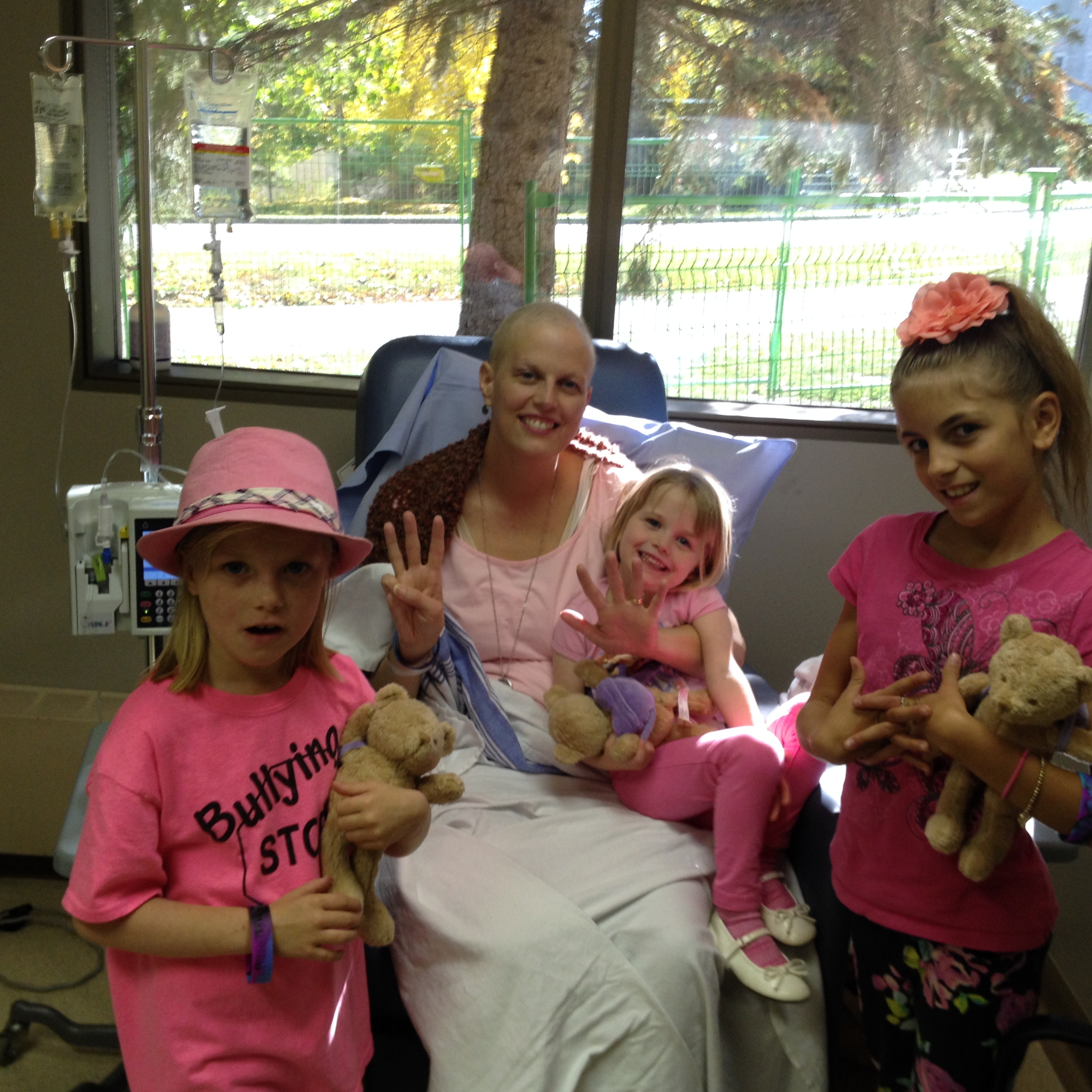 My life changed forever once I received the phone call no one wants to get early one morning in March 2015. My surgeon was on the other line with the results from my recent biopsy. The lump that was supposed to be only a pesky cyst was indeed cancerous. The surgeon further explained my diagnosis. But the only thing I heard was that I had cancer. My world felt like it was spinning out of control.
How could this have happened to me? I was only 37 years old with a loving husband and three small daughters. I lived a relatively healthy lifestyle. Life was just starting for us. Unfortunately, I had to temporarily leave behind my teaching career, because life was being filled with MRIs, CT scans, bone scans, second-look biopsies, and appointments at the Saskatoon Cancer Centre and Breast Health Centre.
When I was diagnosed, I had no idea that there were different subtypes of breast cancer.
My type was triple positive, which meant that it was estrogen receptor positive, progesterone receptor positive, and HER2-positive.
HER2, which stands for human epidermal growth factor receptor 2, means that the cancer cells produce more of a certain protein. This type of breast cancer tends to grow and spread faster than others. It is particularly aggressive and requires additional treatment.
My treatment team decided to go with neoadjuvant chemotherapy in hopes of shrinking the tumour first, and then I would undergo a double mastectomy, followed by 17 infusions of Herceptin and then at least five years of hormone therapy.
This regimen was a lot to chew for my husband and me, but we were willing to do what we needed so that I could watch my children achieve their milestones and grow old with my husband.
While I endured chemotherapy, and was recovering from surgery, our family, friends, and small community of Wakaw, Saskatchewan rallied around us. People brought meals and gifts, cleaned our house, watched our children, and even organized a fundraising event to help with loss of income and cost of travel for treatment. We had never felt so loved.
Going through treatment was such a horrifying experience, both physically and mentally, that I would not wish it on my worst enemy. During the second half of my chemotherapy, I was administered a drug called docetaxel (even typing the word gave me shivers.) Docetaxel takes a toll on your bones and muscles. I felt like I was 80 years old as I shuffled around the house. I often just laid on the couch and didn't move because I was in so much pain. But I never gave up. I was determined to keep a positive mindset.
I completed chemotherapy in October 2015. We had a huge family celebration in the chemotherapy room that included pink cupcakes.
We then had one more hurdle to overcome: the bilateral mastectomy. My breasts were extremely dense, and it was highly recommended by my medical team that I would consider having both breasts removed. In many ways, the surgery was much easier than chemotherapy.
In December, we got the news we were waiting for: my pathology report from the surgery concluded that I had a complete response to chemotherapy and that there wasn't any cancer found in my lymph nodes! It was huge news, and my diagnosis was downgraded from Stage II to Stage Ib breast cancer.
On July 18, 2016, I sat in the chemotherapy chair one last time. The 17 infusions of Herceptin were done. I can't even express in words how grateful I am for the invention of this drug, and that I am a woman living in Canada who had access to it. We are hoping that this miracle drug has saved my life.
I often look back at this whole experience as if I was living someone else's life. I am a year out from treatments, and so far, all my follow-up appointments with my oncologist and breast surgeon have gone well.
I have continued a positive outlook in life. I live for the present, and I try to seize as many opportunities in life that I can. I have been fortunate enough to have traveled this past year to Banff, Edmonton, Vancouver, Ottawa, Montreal, Disneyland, and the Bahamas.
As I reflect on my 18 months of treatment, one word comes to mind: "survivor." I made it through this crazy journey! I did it!! It has made me a better person, more patient, kind, and appreciative of life.