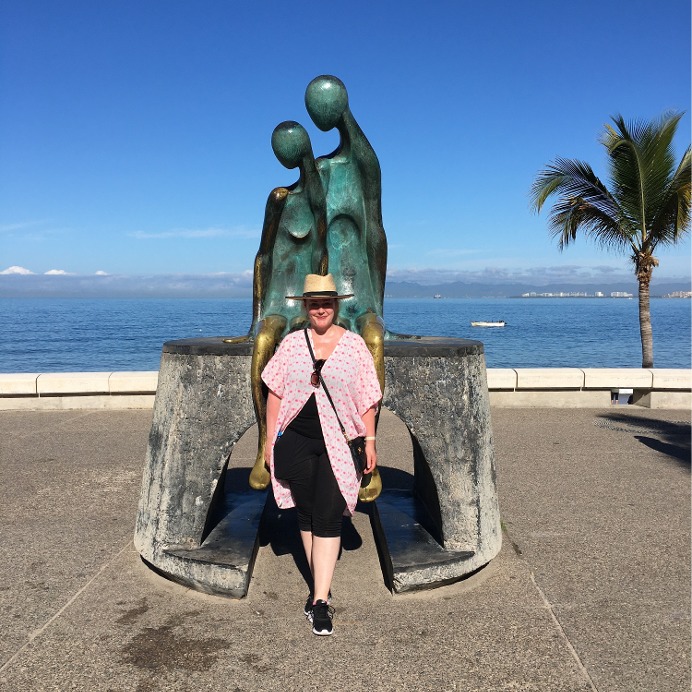 In this new, monthly column, senior writer and editor Adriana Ermter shares her personal experiences with breast cancer
By Adriana Ermter
I could cry writing this. Or maybe screaming for five minutes into a pillow so my neighbours don't hear me would feel better. The walls in my condo aren't that thick. Either way, my reality's not changing any time soon. And by reality, I mean my body and the extra weight it has been lugging around since I started taking Tamoxifen a year ago.
Yes, Tamoxifen is helping me heal from breast cancer by preventing more cancer cells from developing in the two new lumps in my right breast. I know it's working. Every three months the doctors perform a biopsy on my tumors to ensure they remain benign. So obviously, I'm grateful. I can even forgive the chemo-infused drug for shutting down my estrogen, pushing me head first into early menopause, ripping away any last hope of having a family of my own, drenching me in night sweats, shooting unbearable heat through my entire body at random and forcing me to ease my newly stiffened joints out of bed every morning. I can overlook this. I can even ride out the sleepy fatigue, brain fog, blurry vision, squashed libido and anything else it chooses to throw my way over the next five to ten years until my prescription runs out. But the weight gain? Come on!
Gaining a Bigger Perspective
Normally, I don't talk about my body weight. I also try to make a point of not thinking about how much curvier my new shape is. Admittedly, on Mondays at 6:30am like clockwork I do step on the bathroom scale to see if I've added another pound to my Kardashian-like ass. My emotions either relax or spiral depending on what the number says and yes, I know, this isn't exactly healthy behaviour.
Packing for an upcoming trip to Mexico this past February forced me to open my dresser drawer containing the 17 fashionable bikini and one-piece suits I used to love wearing and try them on in front of the full-length mirror in my bedroom. With my eyes open. None of the suits fit, at least not from my perspective. All I could see was the four-inch scar that cuts into it and across my right armpit and breast, and the permanently scorched patch of skin surrounding the former incision. The bathing suits hide the tiny scars from multiple biopsies that scatter across both of my breasts, but if you know where to look, and I do, you can easily see at least two of the blue-ish-black tattoo dots on my chest that will be a forever reminder of the 35+ rounds of radiation I endured. Blinking back hot tears of anger and humiliation, I threw two of the one-piece suits into my luggage and zipped the bag closed.
What I couldn't zip up were my favourite pair of skinny Levis or find a flattering top that fit for a date I went on earlier this year. It was with the one stranger, who, out of all of the dating app-based bios I'd clicked "like" on liked me back and set up a time to go for coffee. I ended up pulling on an old pair of jeans that had always been too big with a loose sweater and overcompensated on my hair and makeup. A second date for a glass of wine was set up, but it didn't result in a third.
We met at a little restaurant around the corner from his place for an hour or so before he had to head out to a friend's birthday. The conversation seemed to go well and even included my date telling me how much he wanted a long-term relationship. But when I declined his invitation to pop up to his condo for another drink with a definitive "nope," I knew I'd be searching online again. The entire streetcar ride home I alternated between silently cursing the creep and blaming myself for being too fat to be considered for a potential real relationship.
And let's not forget last November. My all-time favourite boyfriend from my past reached out over Facebook, was in the city on business and set up a dinner after a decade-plus of radio silence. I was super excited to see him. Back in my early twenties, I'd loved this man hard and a teeny tiny part of me actually flirted with the idea of "what if…" But when his eyes first met mine at the restaurant, they couldn't hide his shock. I'd warned him about the cancer and the weight gain and he'd been kind and dismissed my words. In person however, even as we reminisced and laughed his body language betrayed his distaste for what he saw. Any chance at my imagined "what if…" was extinguished that night. I realize it's ridiculous, but I'm still body shaming myself for this. Tamoxifen is saving my life, but it's killing my self-esteem.
Evaluating My New Self-perception
Maybe my actions are a weird dichotomy of self-masochism and denial and there's a chance that if I was still happily married I'd be able to find some sort of peace with my new physique, but I'm not and I can't. I'm single. I want to feel good and secure within myself so that I can attract my person. I've even put my profile on more than one dating app, each one promising the best love connection. I just wish I didn't lack the confidence I had pre breast cancer diagnosis.
I'm also realistic about our glossy, high-resolution world that is captured and highlighted in 10-second Snapchat videos, tiny Instagram squares and choreographed TikTok moves. We're judged before we're known. So while I accept that it will be challenging to muster up the courage to tell a date what I've experienced and eventually get naked and bare my weathered right boob, I'm even more scared I'll be rejected at first sight.
I was cute before cancer. Well, to be perfectly honest I was cute before I got divorced. But the time span between my divorce and breast cancer diagnosis is relatively short so I suppose both statements are one in the same. At any rate, I liked how I looked better back then.
Walking away from the man I'd joined for life and had loved so much despite not recognizing him after he uttered the words: "I don't love you any more," left me worn out with an unbearable sadness I thought would never leave and a scattering of new lines around my eyes. With my head buried deep inside a pint of Häagen Dazs Cookie Dough ice cream every single day for 12 months, I also gained 20 pounds.
When I was diagnosed with breast cancer, I'd actually been in the process of removing this mental and physical weight through CrossFit and Soul Cycle. Fast forward to a year that included surgery, treatment, working like the walking dead through said treatment (my company didn't have short term disability and I'd used all of my sick and vacation days with my doctors appointments and surgery) and sleeping every free minute of the day complete with a year of Tamoxifen and boom! Twenty pounds, minus the 10 I'd lost working out, turned into 30 and now I'm fat, sweaty, achy and ashamed of how I look and feel.
Trying to Move Forward
I don't want to be this person, conflicted about my appearance and avoiding full-length mirrors. I try to be kind to myself. I meditate most mornings, eat healthy food and do what I love, writing, editing and coaching synchro. One day, I'll even get back in the pool myself and make it part of my weekly routine. My free time is filled with good books, cat cuddles and girls' nights where the best friends a woman could ever have sit on my couch in their sweatpants while we binge on the latest season of Vanderpump Rules. Recently, I created a salon-style gallery with a series of framed art in my bedroom and now, when I lie in bed at night I enjoy my custom-made view.
I'm taking the one-day-at-a-time approach and journaling through my body shaming. Words, especially self-affirmations, have a comforting effect. Some days are better than others, clearly, but my glass is half full. At least that's one part of myself I've never lost—my unwavering positivity. I even have hope that another date will happen. If I can keep moving forward, keep finding the silver linings I believe I can overcome this. So we'll see.
Tamoxifen and I maintain our love/hate status and it is certainly more complex to physically and emotionally embrace than I could have ever imagined. Breast cancer isn't over once the surgery is a success and the tumors are long gone. Its impact leaves an indelible mark on your body, brain and soul. At least it has on mine. I know I'll never be the same woman that I was and in some ways I'm new and improved. In other ways, I'm simply at the beginning again and I'm not sure where this road will lead me.
Adriana Ermter is an award-winning writer and editor. Her work can be read in Figure Skater Fitness, Canadian Hairdresser and IN Magazine, as well as online at 29Secrets.com, RethinkBreastCancer.ca, Popsugar.com and AmongMen.com. The former Beauty Director for FASHION and Editor-in-Chief for Salon and Childview magazines lives in Toronto with her very spoiled cat, Trixie-Belle. You can follow Adriana on Instagram @AdrianaErmter or on Twitter @AErmter