Breast Cancer & Biosimilars White Paper
Recommendations on Use, Implementation and Patient Communications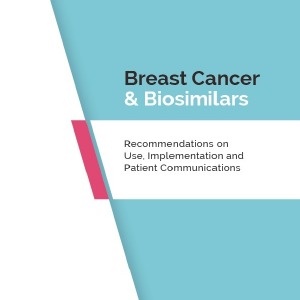 Biologic treatments have been approved and used in Canada for several decades, marking the beginning of an exciting time for the treatments of many diseases, as these therapies truly changed the outcomes for many patients living with chronic, and often fatal diseases.
Biosimilars are defined as drugs that are highly similar to a reference biologic drug that has already been approved for sale (also known as a reference product). Unlike generic drugs, which are chemically identical to an existing drug, biosimilars are similar to their reference products, but due to their large size and complexity, are not actually identical.
The Canadian Breast Cancer Network (CBCN) has been observing the evolution of this new treatment space carefully, knowing that an increasing number of biosimilars are likely to be approved for use in cancer treatment; breast cancer, in particular, is primed to be impacted by the biosimilar market, as patents for breast cancer treatments are among the first to expire.
While there are many opportunities that come along with the entry of biosimilars, they also bring with them a host of unanswered questions. To help understand the different perspectives to these and other questions, CBCN conducted two national virtual roundtables – one with breast cancer patients and one with medical oncologists. Insights were collected from seven patients and six medical oncologists. The following paper outlines some observations, key take-aways and recommendations that resulted from those roundtables.